Special- & Small Parts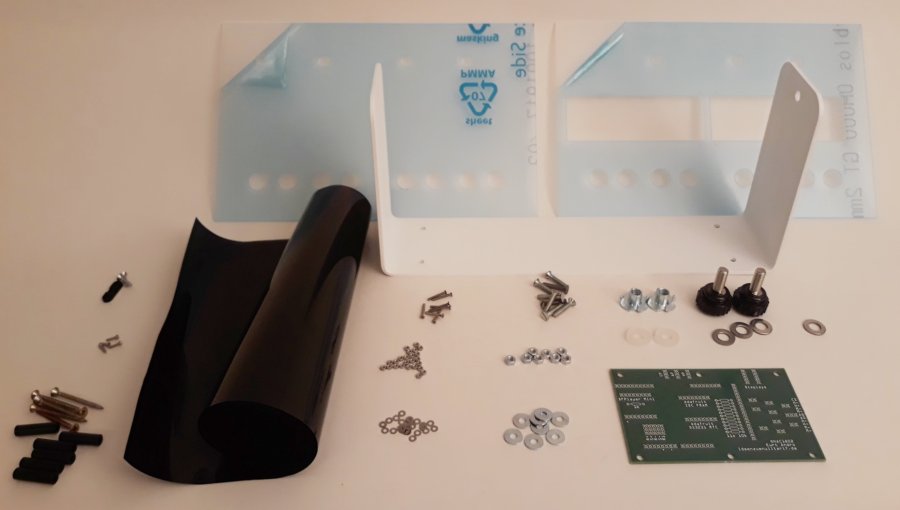 Front Panel and Mounting Plate are of course special parts. You can make them yourself according to the construction plans (Front Panels and Mounting Plate) or have them made.
Small parts, such as screws, nuts, washers, spacers, a strain relief and a piece of tinting foil are things you can only get in larger packaging units or that are much cheaper in larger quantities. You will find everything you need in the following list with details of the sources of supply, the quantity required for the construction of a single device and the function of the respective part. The parts and shops of this list are of course only suggestions; if you know better or cheaper ones: Information welcome!
For wall mounting with the mounting plate
Front panels and their mounting
Fixing the displays
PCB and its mounting
PCB, 1 piece, for the RTC, FRAM and MP3 module and for the connection with all operating and display elements and the relay PCB, Aisler
Lenticular-head tapping screws 2,9x32 VE=100, 6 pieces, Versandhandel Schleicher
Distance sleeves, plastic, 25mm, 6 pieces, Reichelt
Strain relief and its fixing
Cable clamp 200 pcs Plastic black, 1 piece, Amazon
Sheet metal wood screws with countersunk head, 3 x 12mm VE=100, 2 pcs, Minischrauben.com
Other
Sheet metal screws 2.2 x 9.5mm VE=2000, 4 pcs, for fixing the relay PCB to the housing, Minischrauben.com
Tinting foil 95% BLACK 300x75cm, 1 (part) piece, to reduce the display brightness (glare protection), Amazon